Google has recently expanded its beta version of Nearby Share for Windows to a global audience, making it easier for Android users to transfer files between their phones and PCs. Initially, the tool was available in only a few countries, but now users from nearly every nation can access the app.
Nearby Share for Windows was introduced to bridge the gap between Android devices and PCs. It allows users to quickly and efficiently share files between their devices without any hassle. This feature has been long-awaited by Android enthusiasts who previously had to rely on third-party tools or cloud-based services for file transfers.
The expansion of the app's availability is indeed a welcome move from Google, as it caters to the needs of millions of Android users around the world. However, it should be noted that Nearby Share is still in its beta phase, which means there might be some bugs or issues that need ironing out before it becomes a fully-fledged tool.
Here's a step-by-step guide on how to work with Google's Nearby Share beta for Windows.
Step 1: Update Your Devices
Before using Nearby Share, ensure that your Android device is running on at least the last Android and has Google Play Services installed. Additionally, update your Windows PC to the latest version of Windows.
Step 2: Download and Install Nearby Share App
Visit the official Google Play Store on your Android device and search for "Nearby Share." Download and install the app. Similarly, go to the Microsoft Store on your Windows PC, search for "Nearby Share", and install it.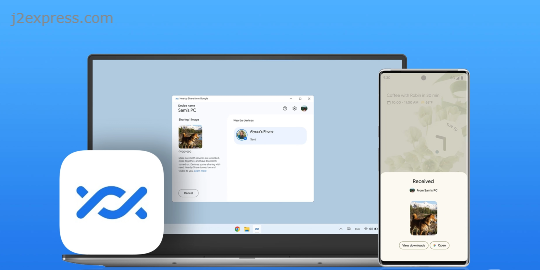 Step 3: Enable Bluetooth and Location Services
To use Nearby Share, both your Android device and Windows PC must have Bluetooth enabled. Additionally, location services must be turned on in your Android device to detect nearby devices accurately.
Step 4: Pair Your Devices
Open the Nearby Share app on both devices. Your phone should automatically scan for nearby devices with compatible software. Once detected, select your Windows PC from the list of available devices and follow the on-screen instructions to pair them successfully.
Step 5: Start Sharing Files
Once paired, you can start sharing files between your Android device and Windows PC using Nearby Share. To send a file from your phone, select it in any file manager app or gallery app that supports sharing functionality. Tap on the share icon, then choose "Nearby Share" from the sharing options menu. Your phone will start searching for nearby devices; once it detects your paired PC, tap on its name to begin transferring files.
Similarly, to send a file from your Windows PC, right-click on the desired file, hover over the "Share" option, and select "Nearby Share." Your PC will then search for your paired Android device. Once detected, click on its name to initiate the file transfer.
Despite being in beta, most users can now officially use Nearby Share for Windows, with only a few exceptions. Certain regions are still restricted from accessing the app due to various reasons. These include Cuba, Iran, North Korea, and Syria – countries that are often subject to international trade restrictions or sanctions.
In conclusion, Google's expansion of Nearby Share beta for Windows is a significant step forward in providing seamless file transfer solutions for Android users across the globe. Although it remains in the beta testing phase and is not yet available in all countries, this move demonstrates Google's commitment to enhancing user experience and catering to their customers' demands.